One Piece: World Seeker
Bandai Namco Entertainment gab vor Kurzem den Starttermin zum kommenden Open-World-Game bekannt. Demnach wird One Piece: World Seeker am 15. März 2019 für die PlayStation 4, Xbox One und für den PC (Steam) erscheinen. Zudem wurde auch ein neuer Trailer veröffentlicht, in denen Luffys Gum-Gum-Fähigkeiten präsentiert werden und die Skill-Tree, sowie die Crafting- beziehungsweise Kochmechanik vorgestellt werden. Außerdem wird die Gear 4-Form von Luffy gezeigt, mit der er mächtige Angriffe vollführen kann für einen begrenzten Zeitraum.
Auf "Jail Island" wird Luffys Abenteuer in One Piece: World Seeker beginnen. Ursprünglich trug die Insel den Namen "Jewel Island" wegen seinen wertvollen Mineralien, doch nun wird sie von der Weltregierung streng bewacht. Manche behaupten, dass die Insel etwas besitzt, was die ganze Neue Welt erschüttern würde.
The Pirate King Edition
Es wird eine limitierte Collector's Edition geben, die den Titel The Pirate King Edition trägt. In dieser Collector's Edition ist neben dem Spiel, eine 21 cm hohe Luffy-Figur, eine Gum-Gum-Frucht-Figur, der originale Soundtrack auf CD und ein Season Pass enthalten.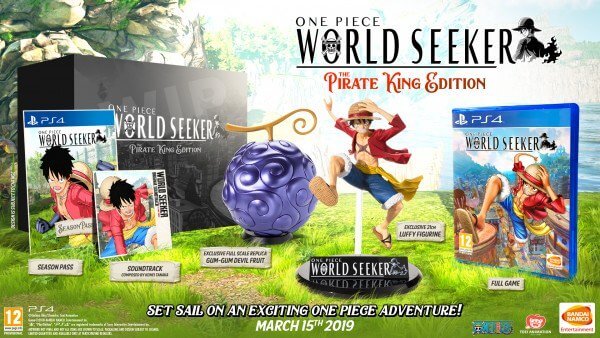 Hier könnt ihr euch den Trailer ansehen:
Quelle: ANN